12 May

Why to visit Johannesburg
When I considered to visit Johannesburg, majority of the people would say, "Are you insane? Johannesburg is dangerous!". Even before I went to South Africa for the first time, a lot of people advised me to be super careful as it is a dangerous place. However, I never understood how those who have not travelled to this place knew of its apparent danger. I mean, I have been in this "dangerous" country for about 3 years and well, I am still alive. Never the less, as it is with any country, you have to know where to go, research how to travel around the place, and well, besides having fun, you have to always be aware and careful. There are spots where you can go and there are some you should avoid and that's also how it works in South Africa. I have to admit that the two major cities in South Africa are completely different from each other; Cape Town is much more European and relatively safer, however, Joburg is on his way. Below you will find my reasons why I felt in love with the City of Gold and some valuable tips for your trip.
1. Maboneng – the heart of culture, business and lifestyle
When you visit Johannesburg a stop in downtown  on the far east side of the city is a must. Here you will find a bustling, interesting suburb called Maboneng. This suburb is an area that is still developing; however it has transformed from a no-go area into a hip, vibrant urban community. Just ten years ago, the east side of Joburg was crime-ridden and seedy. Nowadays, you walk through a trendy, well-maintained 24-hour security area.
You will find:
Art galleries
Trendy restaurants
Coffee shops
Cool bars
Collaborative work spaces and
Cinemas
The buildings and walls are covered with murals and paintings. Thanks to a youngster, Jonathan Liebmann, Maboneng is a gallery of street art and sculptures. When he returned home to Joburg, he started to invest a lot of money, buying a lot of houses and bringing artists to the area. Although the area is developing, it is continuously an area of contrast; just as you pass a trendy street, you will find abandoned houses in the same area too.
What to see and do in Maboneng:
1. Visit "The Kwa Mai-Mai Traditional Healers Market"
This market is known to be the oldest market in Johannesburg and used to be a horse stable. Now it houses over 176 market stall units, where you are guaranteed to find the best souvenirs to take back home. Amongst other things, you will find animal skins, traditional clothes and even strange things like parts of animals which are used as traditional medicine. The people working there are predominantly Zulu-speaking people. The Zulu's are the largest ethnic group in Southern Africa and their language, is a Bantu language and one of the eleven official languages spoken in South Africa.
2. Go on a Inner City Walking Tour with Mainstreet Walks
One of our stops was Carlton Centre, which I personally found to be impressive. Carlton Centre is a skyscraper and shopping centre in downtown Johannesburg and also, the tallest building in Africa. We took the elevator to a viewing deck on the 50th floor and enjoyed an insanely breathtaking view of Johannesburg.
3. Check out the restaurants, bars, markets and galleries
Here you will find listed all the places you mustn´t miss out on.
2. Braamfontein – explore the bustling student suburb
Braamfontein is another vibrant suburb of that you shouldn´t miss once you visit Johannesburg.  One of South Africa's most famous universities – The University of Witwatersrand – is located in Braamfontein, which explains why the area is commonly known as a student area.
The area comes alive mostly on weekends with students enjoying the party scenes by night. During this time, you will find students airing cool tunes in their cars, sitting and dancing on the sidewalks. In Melle Street you can find big flatscreens on the wall, which broadcasts sports games and therefore becomes the perfect spot to meet friends, chill and spend your evenings. This area has its own vibe.
Don´t forget to pin my post!
The artistic side of Braamfontein
Don't get me wrong, Braamfontein is even more than just a student area. One street up, the suburb offers a more serious side as it also hosts many of South Africa's musicians and artists. It boasts some of the best public art in the city and is home to lots of galleries, as well as the famous Joburg Theatre. Also you can find jazz clubs, coffee shops and good restaurants and lots of street art. You can explore all of that by going on a Guided Walking Tour. Nielson Tours offers 2 tours in Johannesburg – a City Centre Tour and a Braamfontein Tour.
3. Soweto – a stop is a must
A few information about Soweto
Our parents probably know Soweto due to the horrible fights that used to take place there in times of Apartheid. Soweto (abbreviation for: South-Western Townships) is the largest township in South Africa and a result of the segregation policy starting in 1904. When gold was discovered in 1884, people from all over the country moved to Joburg to look for employment. Soweto was created to become home of mainly black mine workers to segregate them away from the city centre which was supposed to be home of white population. Soweto's growth was unplanned and up to today it probably has more than 2 million inhabitants.
More of a city than a township
Honestly, I was afraid of going to Soweto cause I did not know what to expect but basically Soweto is its own suburb like a big city. It has its unique infrastructure, vibe and sightseeing areas. As mentioned before, be sure to be careful when exploring the area. What you should do is travel with a local who knows the area; I did a bicycle tour with a local and it was much better than exploring alone. How I experienced Soweto was a place of contrast. In the surroundings of even the poorest of homes, you can find beautiful villas – the homes of millionaires. Soweto even has its own adventure area – the Orlando Towers. For those who need their daily adrenaline rush, this is your spot for bungee jumping, abseiling and free-falling.

What to see in Soweto:
Hector Pieterson Memorial
Vilakazi Street, which is the only street in the world that used to house 2 Nobel Prize winners, Nelson Mandela and Desmond Tutu.
How to explore the area:
Buy a ticket for the Hop on Hop off City Sightseeing Bus and add a Soweto Tour
Get out of the bus and discover Soweto by bicycle, Tuc Tuc or walking
Are you keen on visiting South Africa?

Then check out my trips and secure

10% discount when making a booing:
4. Apartheid Museum
A big part of the South African history is Apartheid. Getting to know why South Africa is the country that it is today you have to know about its history. You can explore the museum by your self but be prepared to read a lot and all the information can be quite overwhelming. I spent 4 hours in there and I almost collapsed by the amount of information I had to take in.
My advice:
Go on a guided tour
Take the Hop on Hop off City Sightseeing Bus as it stops right in front of the museum.
5. What else to explore/ to do in Johannesburg
Visit Constitution Hill
Visit Walther Sisulu Botanical Garden
Watch a cricket game at Wanderers Stadium
More ideas of what to do in Johannesburg you are going to find in this post.
6. Joburg´s entertainment and nightlife sector
Joburg´s nightlife has something to offer for every taste. These are the spots I discovered:
Braamfontein:
Neighbourgoods Market – Food Market
The Beach – Rooftop Beach Bar
Kitchener´s – Pub and Bar
The Orbit – Live Music and Bistro
Parkhurst:
Jolly Rogers – Restaurant and Bar
Jolly Cools – Restaurant and Bar
The Rocket – Restaurant
Greenside:
Mish Mash
Po Na Na
The Artisan -Restaurant and Bar
Sandton:
Maboneng:
Along Foxstreet there are plenty of nice bars and restaurants like:

Lenin's Vodka Bar
Market on Main
Art´s on Main
FourWays Area:
check out the variety of nightclubs, bars and lounges
Newtown:
SAB World of Beer
Potato Shed – Restaurant
Melleville:
7. Where to stay in Johannesburg
Located in Braamfontein is my favorite hostel in Johannesburg called "Once in Joburg". It is the sister brand of the hostel I work for in Cape Town, Once in Cape Town, and it is an all-star hostel with a fun and vibrant atmosphere.
Right in front of Once in Joburg, you will find a stop for the Hop-on Hop-off City Sightseeing Bus. The main central railway station, called Park Station, is just five minutes away from the hostel. Breweries, bars, restaurants and clubs are also in walking distance.
I have stayed in many hostels before and it is really difficult to find a hostel like this. Also it is really tough to find such welcoming and heart-warming staff. By offering a free activity every day the hostel, ensures that travelers easily mingle with other guests.
Once in Joburg offers 4 bed sleepers and private rooms – each with an en-suite bathroom. Every private room comes with air conditioning, safe, flatscreen and a tea/coffee Station.
Breakfast is provided by the in-house restaurant and bar, "The Immigrant", and is included in the rate, as well as, free underground parking. I went there to visit my friends and checking out the place. We cooked South African dishes, played beer-pong and ended up going out almost every night with the hostel staff, thus making the hostel a definite place to stay.
For everyone that is looking for a different kind of accommodation, here you can find the best deals:
8. How to get around in Johannesburg
What is the best way to get around in Johannesburg if you don't have an own car? I can recommend the following ways of transportation:
6.1. Taxi
The local and cheapest way (average rate R10) of getting around in Johannesburg are the mini-bus taxis. These taxis are a 12-seater and it goes through town in different directions.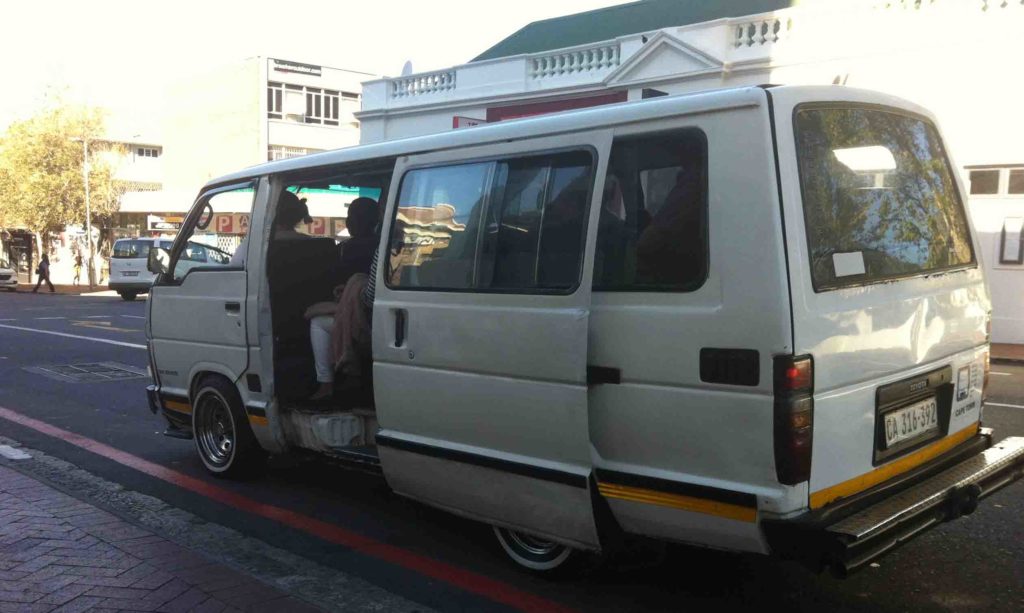 This way of transportation was developed during the Apartheid era by black commuters, who had to travel long distances to and from work without easy access to transportation. You can find different big taxi stations in the city center of Johannesburg – called taxi ranks..
My advice:
Getting around in Joburg by taxi requires a special knowledge – the sign language. The handsign is indicating to stop the taxi and to show them where you want to go. You are best adviced to speak to a local or ask the driver in one of the taxi ranks directly in order to find out how to get to your destination.
Never take a mini-bus taxi when it is dark or if they are empty.
Be careful when you drive your own car and drive next to a mini-bus driver. They follow their own road rules; they stop wherever and whenever they choose, do not indicate and travel at whatever speed suits them.
6.2. Gautrain
Gautrain is a super modern train and comes along with three routes. Two routes within Johannesburg – from Santon to the Airport and from Santon to Rhodesfield. The third route connects Johannesburg and Pretoria – commuting between Park Station Joburg and Hatfield, Pretoria. If you want to use Gautrain you need to get a card which you upload with money. It's about R 160 to get from Johannesburg Airport to Park Station Johannesburg. For sure it's more expensive but it's worth it.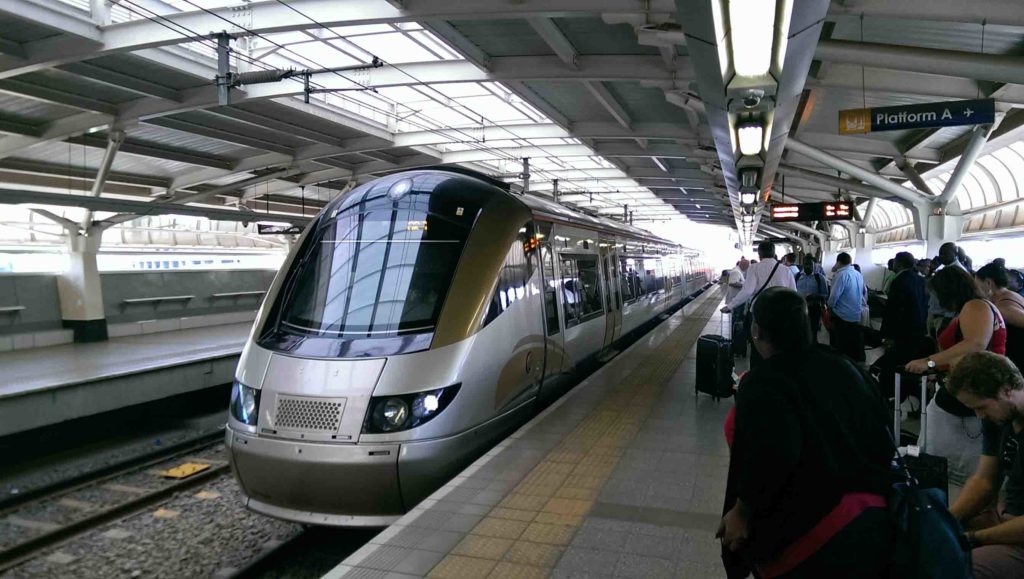 6.3. Uber
The quickest, safest and most convenient way of getting around in Johannesburg is Uber. Uber? What? For those who have never heard of Uber before – especially Germans as we don't have Uber in Germany – you can compare it with a cab that you order with an app on your phone.
Lets get started:
Download the uber app.
Create an account.
If you have never used uber before add this promo code: p7smqp44ue under payment and you gonna get a discount up to R 50 for your first ride.
My advice:
When choosing your pick-up location always make sure that you choose a location like a specific hotel, bar, restaurant or shopping centre (most of the time the pin location is inaccurate).
There is no need to add a credit card, it works on cash as well.
As your driver is arriving please always double-check that it is the car, the number plate and the driver as it is shown on your phone.
Have you been to Johannesburg before? What did you like most? Let me know in the comments!
Would you like to read and see more about my Africa trips? Here we go!
[Disclaimer: This blog post contains some affiliate links. Once you purchase something, I may earn a small commission at no extra cost to you. This tiny commission will help support my blog hosting and other maintenance costs. All my opinions are my own and were not influenced in any way. Thank you!]