23 Dec

10 Things I didn´t know about Victoria Falls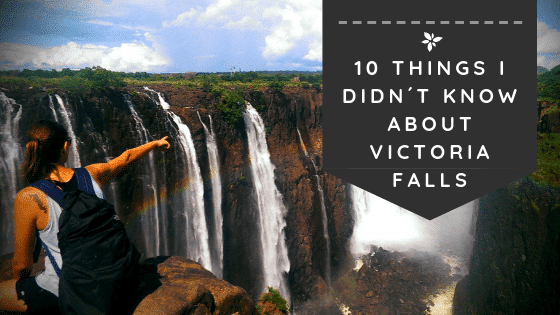 During my second safari in Africa I stopped at Victoria Falls Zimbabwe. In this post I will be sharing 10 things I didn´t know about this stunningly beautiful waterfall in Africa.
1.
Vic Falls is a mighty waterfall on the Zambezi River which is Africa´s fourth largest river after Nile, Congo and Niger.
2.
It is one of the Seven Natural Wonders of the world and one of the UNESCO World Heritage Sites in Africa.
3.
There are 3 ways of how to measure a waterfall: by volume, by width and by height. If you combine these factors there are 3 large waterfalls in the world: Niagara Falls, Iguacu Falls and Victoria Falls.
Are you already following me on Instagram?
4.
The massive Victoria Falls can be seen from the Zimbabwean and from the Zambian side. Entrance fee for Victoria Falls for the park on the Zimbabwean side is $30 whereas the entrance fee from the Zambian side is just $10.
5.
Most people say the Victoria Falls are more impressive from the Zimbabwean side as you have 15 look outs whereas there is only one main spot from the Zambian side. Personally, I think so too.
6.
Especially during a drought you barely have water and there is no waterfall from the Zambian side. Although the Falls are a spectacular experience at High Water, the spray makes it more difficult to see and photograph the waterfall. Each time of the year has its advantages and disadvantages.
Don´t forget to pin my post:
7.
There are plenty of things to do in Victoria Falls. The most famous activities are White Water Rafting, Helicopter flights, a splash in Devils Pool and the Bungee Jump but be warned everything is in US$ and they charge you an arm and a leg.
8.
If you are planning to see Victoria Falls from the Zimbabwean and the Zambian side there is a visa called Kaza Visa for $50 covering Zimbabwe and Zambia. Get this one as there is no need to pay for 2 visas.
9.
The visa at the boarder you can pay in US$, South African Rand, English Pounds and even in Euros.
Planning on traveling Africa?
Then check out my recommendation in tours and secure 10% discount!
10.
How to get from Victoria Falls Zimbabwe to Vic Falls Zambia? There is a bridge connecting both countries which you can easily cross. That was my first border crossed by foot.
Where to stay at Victoria Falls:
My recommendation:
Livingston Backpackers is my favorite backpackers in Livingston. Check it out!
More hostels you will find on Hostelworld:
Have you been to Victoria Falls or another impressive waterfall before? Let me know in the comments!
It stands December 2018
Check out my video as well:
Would you like to read and see more about my Africa trips? Here we go!
[Disclaimer: This blog post contains some affiliate links. Once you purchase something, I may earn a small commission at no extra cost to you. This tiny commission will help support my blog hosting and other maintenance costs. All my opinions are my own and were not influenced in any way. Thank you!]