15 Jul

African Food: How to prepare Banku and Okro Soup/Stew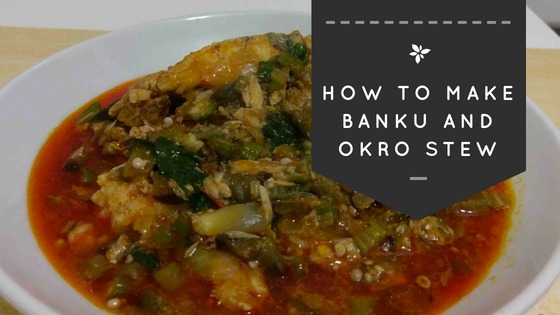 Find my African Food Recipe for a tradtional Ghanaian dish – Banku and Okro Soup/Stew.
Whenever I travel to a new country one important thing that I always do is try the local dishes. The tradtional food of the country plays a vital role in my travel experience. That´s why I created the category Traditional Food Recipes. Here I am going to share my favourite recipes that I came along during my trips.
I have lived in Africa for about 3 years and also traveled the continent a lot. Especially with the African food I fell in love with right from the start. I haven't been to Ghana yet but I was introduced to the Ghanaian cuisine by my friend Eric, which I met in Cape Town. He is an amazing chef, originally from Ghana, a country in West Africa. We had a traditional Ghanaian dish called Banku and Okro Soup/ Stew. Okro is a vegetable with many health benefits (note: Ghanaians call okra "okro"). It is the main ingredient for a stew. In Ghana it is common to add meat or fish or both in the stew. Banku is one of the staple foods in Ghana. Basically, it is a mix of fermented corn and cassava, served on the side of many Ghanaian dishes. Banku with Okro Soup/ Stew is super yummy and fortunately, I convinced Eric to share his recipe with me. Would you like to cook this African food by yourself? Here you can find the African recipe. At the bottom of this post you are going to find a video of how to prepare it.
What you need for 4 people:
2 medium onions
garlic
ginger
3 chilies
1 big silverfish but you can also use any other fish
100 g of baby spinach
200 g of okra (note: Ghanaians call okra "okro")
3 garden eggs (substitute it with eggplants)
4 tomatoes
palm oil (substitute it with olive oil)
1 Maggi cube
½ pounds of cassava dough (cassava is a vegetable and one of the major staple foods in Africa)
1 pound of corn dough
1 cup of water
salt to taste
You might also enjoy reading more posts about Traditional Food Recipes:
Find my African Food Recipe for a tradtional Ghanaian dish – Banku and Okro Soup/Stew....
How to prepare the Okro Soup/ Stew:
Wash the fish, remove the guts and cut the fish into 5 cm thick pieces. Blend garlic, onion, chili and ginger. Heat up some water in a pot, add the fish as well as the blended ingredients and cook everything for about 15 minutes.
Chop garden eggs, okro and tomato. Cook the garden eggs for about 10 minutes. Once they are soft, add okro and cook everything for another 10 minutes. Heat up palm oil in a pan and fry chopped onions. Then add the tomatoes and cook onions and tomatoes for about 5 minutes. Finally you add the fish soup, the fish, the Maggi cube as well as the garden egg-okro mix. Cook everything for about 5 minutes then add the spinach and cook it for another 5 minutes – done!
How to prepare the Banku: 
Mix ½ cup of water with the cassava dough and pour it through a strainer to ensure that there will be no lumps. Add the corn dough, some salt and mix everything until the mixture becomes smooth. Put the mixture over medium fire, add another ½ cup of water and continue to mix. Stirring will become more difficult now (note: use a wooden spoon) as the dough is becoming thicker. Use a napkin to hold the pod while stirring. When the water is reduced, reduce the heat and knead the mixture until it´s smooth and sticky.
African food is ready to be served.

You might also enjoy reading my posts about Africa:
Here you can find a list of my favourite beaches at Lake Malawi....
How to eat Banku with Okro Soup/ Stew:
In most African countries people don´t use cutlery for eating African food – they use their hands. Dish up a bit of the banku, the okro soup/ stew and the fish. Wash your hands 🙂 Form a little ball from the banku to dip in the okro soup/ stew and pick up a piece of fish.
Don´t forget to pin my post: 
Bon Appétit!
You might also enjoy reading about my Europe Travels
Join me and my family on our 10-day Balkan Road Trip visiting Montenegro, Bosnia Herzegovina and Croatia....
[Disclaimer: This blog post contains some affiliate links. Once you purchase something, I may earn a small commission at no extra cost to you. This tiny commission will help support my blog hosting and other maintenance costs. All my opinions are my own and were not influenced in any way. Thank you!][/vc_column_text][/vc_column]