21 Apr

Useful Xhosa Phrases – For speaking Xhosa
When I travel to a new country I always learn a bit of the local language. I learned a bit of Chichewa, the most common language in Malawi, as well as a bit of Shona, the most spoken language in Zimbabwe. I noticed locals always appreciate the effort and respond positively.
The click language Xhosa is one of the 11 official languages spoken in South Africa. It is mainly spoken in the Eastern and the Western Cape of South Africa. Are you planning to travel South Africa and would you like to learn a bit of Xhosa? I put together a list of what I found to be most useful words in the Xhosa language to use while traveling and meeting South Africans. My video, which you will find on the bottom of this post, is perfect to get started with the most important expressions. My friend Asanda is Xhosa and is teaching me and you. So enjoy!
English to Xhosa Translation:
Hello/ Good morning
Molo (1 Person)
Hello/ Good morning
Molweni (more than 1 Person)
How are you?
Kunjani?
---
Why visit Johannesburg? Find my reasons here!
---
Fine, thank you.
Ndiyaphila enkosi.
What is your name?
Ngubani igama lakho?
My name is …
Igama Iam ngu…
Nice to meet you.
Ndiyavuya ukukwazi.
---
---
Thank you.
Enkosi.
Yes
Ewe
No
Hayi
---
Are you planning to travel South Africa? Here you can design your own trip:
---
I am sorry
Xolo
Goodbye
Uhambe/Usale kakuhle
Good night
Ulale kakuhle
---
---
Where is the toilet?
Iphi indlu yangasese?
Iphi itoilet?
I LOVE YOU!
Ndiyakuthanda!
Do you speak English?
Uyasithetha isingesi na?
---
---
Is there someone here who speaks English?
Ukhona apha umntu othetha isiNgesi?
I need help!
Ndicela uncedo!
Come here!
Izapha!
I don´t know!
Andiyazi!
---
Keen to cook a traditional South African dish? Find the recipe

here

.
---
Please!
Ndicela/Ndiyacela
Go!
Hamba!
I am going.
Ndiyahamba.
Which language did you learn when going on a holiday. Please let me know in the comments!
Don´t forget to pin my post: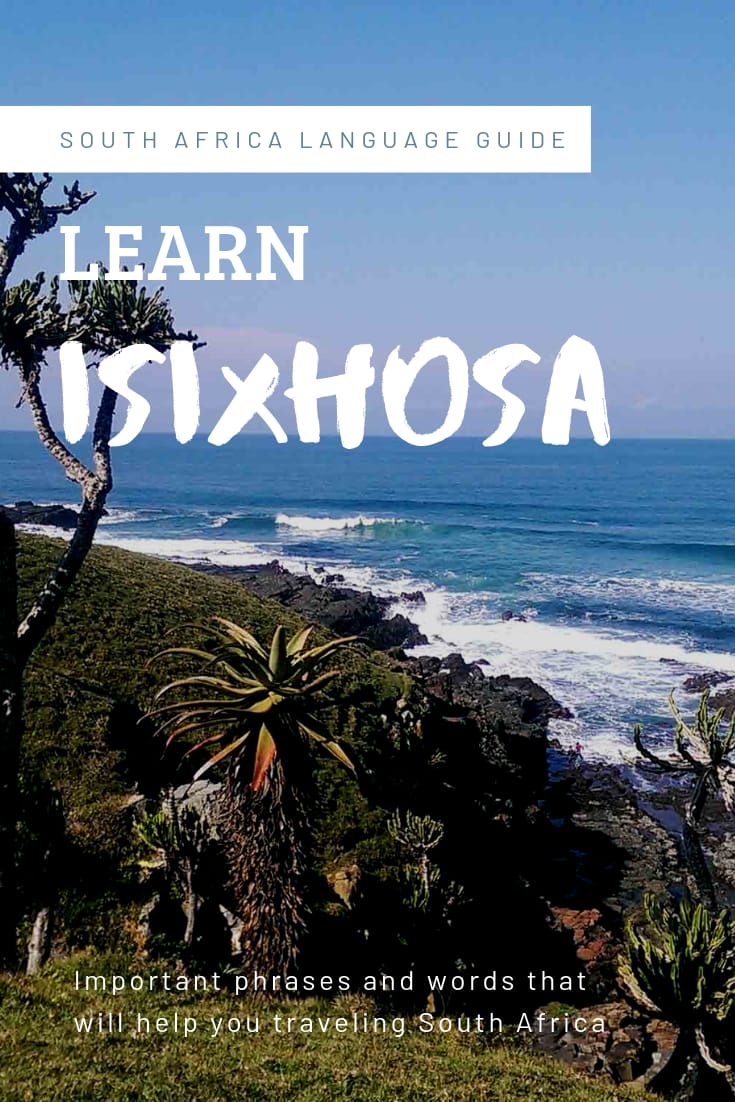 Watch my video to learn the pronounication:
Would you like to read more about my friend Asanda? Then click here and "Meet Asanda"!
[Disclaimer: This blog post contains some affiliate links. Once you purchase something, I may earn a small commission at no extra cost to you. This tiny commission will help support my blog hosting and other maintenance costs. All my opinions are my own and were not influenced in any way. Thank you!]